Guide to Choosing the Right Desk for You
Purchasing a desk for a home or office can feel overwhelming with all the available choices. And most base their decision simply on size and style. There's no question that a desk's dimensions are critical—it does need to fit in the allotted space after all. And the way it looks should complement, not clash, with the existing décor. But when it comes to helping you be more productive, there are other factors you also should be evaluating. To help you select the perfect desk for your needs, we've pulled together some additional details for you to consider.

This seems like the most obvious factor, yet many people focus on form first and forget that certain desks were designed for specific functions. Select a desk that will support your primary tasks. If hand drawing or sketching is how you spend your time, you will want a drafting table that can be positioned at any angle—offering a tilted view that allows for closer inspection of visual details. If you are mostly doing computer work, consider options that feature grommets and cable channels to organize and conceal all your wires. And if you're working with a desktop computer, you may want a desk with a built-in keyboard tray to help maximize usable desktop space and make typing more comfortable. Doing a lot of tinkering? Make sure your desk is built to withstand rigorous use. And if your needs revolve around some basic writing or minimal laptop use, consider a writing desk designed with simplicity in mind.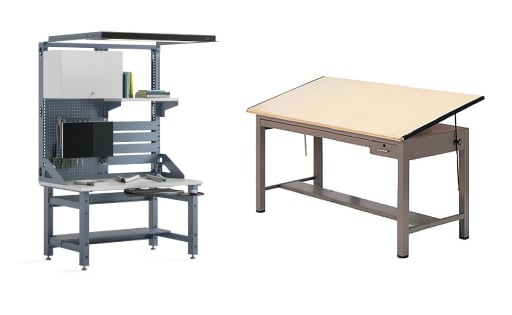 Rectangular desks are certainly the most popular and versatile form, coming in a wide variety of widths and depths to accommodate any size area. However, there are different shapes that desks come in that can help maximize existing space or allow for increased function. If space is at a premium, consider making use of an underutilized area with a compact corner-shaped desk. For those who require more surface area and may also need to host one-on-one meetings, an L-shaped desk is ideal. This shape of desk can also be conveniently placed in a corner if needed. U-shaped configurations will offer the most function along with a highly professional look for those who have larger private offices and require additional surface area and storage.

Desks can be seated- or standing-height or sit-to-stand for ultimate flexibility. A seated-height desk, combined with an ergonomic chair, makes the most sense for those who need to be at their desk working for an extended period. Standing-height desks with stools or perch seating are great options for those who only need a desk for a short duration or for those who like to stand for impromptu meetings. Sit-to-stand desks can be adjusted in a wide range of heights to support personal preference and promote healthy postural changes throughout the day. If remaining comfortable and changing positions is how you stay the most productive, a sit-to-stand desk is the best choice for you.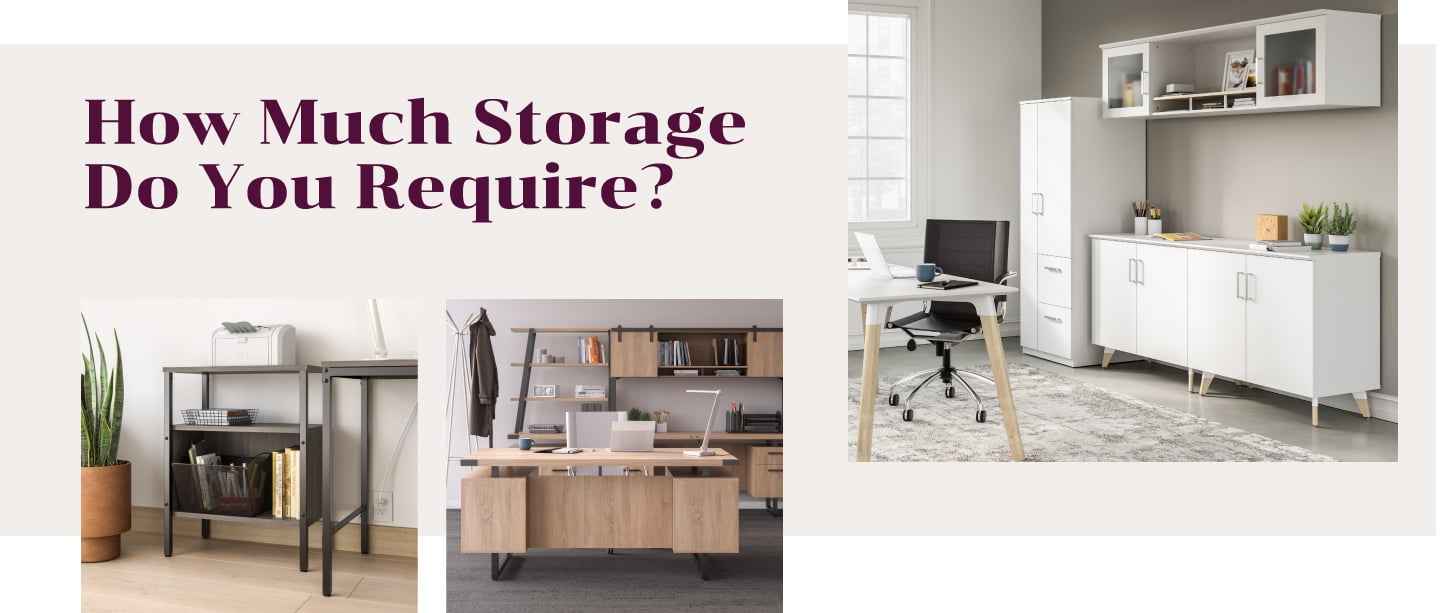 If you're a minimalist and primarily deal with electronic files, a simple table desk may be your perfect solution. Those needing more organization may want to consider desks that offer built-in file drawers that keep important items close at hand. And for those who require a significant amount of storage and have the necessary space to accommodate, a desk with an accompanying hutch or vertical shelving units will not only be more functional but will also create a cohesive look for your office.

Another important consideration is where the desk will be used. Will it be out in an open plan, in a private business office, in a common area in a home, or in a dedicated home office?
If used in the open plan office, the desk may need to be shared with others or may need to serve double duty as a meeting space. Plan for multi-purpose by selecting a table desk without integrated storage that can be used for both individual work and collaboration in a touch-down area.

If for a common room within a home, consider selecting a light-scaled, ready-to-assemble table desk that can be easy to move out of the way if needed.