Feel Great to Do Great
We've all made the connection that supporting good ergonomics and well-being in the workplace can boost productivity. That's why you've made sure all your employees have a comfortable, high-performance task chair. But before you check off the box, remember that championing ergonomics for everyone involves much more than just providing appropriate back support while they're sitting. Designing an overall ergonomic workplace means promoting good posture and healthy movement as well as reducing repetitive motions, strain, and fatigue for all tasks.
Does It Really Matter that Much?
Poor ergonomics can result in musculoskeletal disorders (MSDs) like carpal tunnel syndrome and tendonitis, as well as headaches, migraines, and back injuries. And while putting in place preventive measures might seem daunting from a cost perspective—the financial ramifications of dealing with MSDs in the workplace are far more exorbitant.
According to the US Department of Labor Statistics, 33% of workers' compensation claims are due to MSDs, with these cases resulting in 38% more lost time than the average injury or illness. The cost of workers' compensation claims per injury can equal $29,000 - $32,000 per year without factoring in the loss of productivity that results. This leaves little doubt that workplace ergonomic injuries can have a significant impact on not just the individual but on the organization as a whole.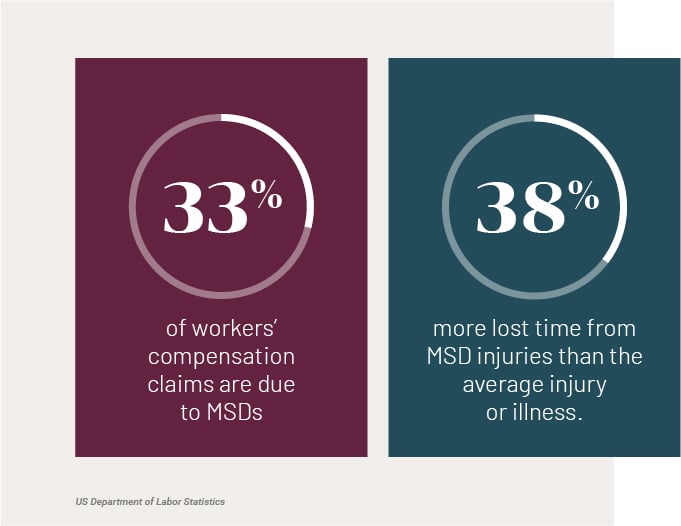 If "an ounce of prevention is worth a pound of cure," then it makes sense to ensure that your employees have all the right ergonomic tools to get their jobs done. While a high-performance task chair is a great start, consider other accessories that can help with proper posture, including the following:
From sitting to standing, Safco has the right accessory to support you throughout the day and keep your body in harmony. Explore our
Human Elements
ergonomic essentials to create a work environment that's both good for your people and your business.