Your Guide for Selecting the Right Seat
The act of sitting seems simple. But when it comes to selecting the perfect seating for your workplace, it can start getting complicated fast. Just how ergonomic should a chair be? Does one size fit all? Should it have arms? There's only one thing for certain—no single chair works for every situation. That means there's a lot to think about when it comes to seating. Considerations such as quality and price are a given. Looks and style are important too. But to create the kind of workspace that truly supports your employees and the work that they do, it's essential to keep the following in mind.

Just like people, chairs come in all shapes and sizes. And many come with features that make them ideal only for specific situations. That's why it's important to think through all the work activities your workplace needs to support. Do people need to work alone or together? Does collaboration consist mainly of conversation, or will team members need to move throughout the space during meetings? This line of questioning helps determine what types of postures your seating should accommodate and if stationary or mobile options make more sense.
Consider not only what your workers will most likely be doing but also what you want them to do. If your goal is to spur connection and camaraderie between team members, think about incorporating lounge seating and ottomans within various areas. This not only will encourage conversation and informal collaboration but will also offer relaxing places for those crucial recharging breaks. If you want to nurture more impromptu meetings that spark creativity, provide standing-height tables and whiteboards along with stools or active perches in open areas. This will turn chance encounters into more productive moments and facilitate healthy postural changes that support employee well-being.
We all know that ergonomic task chairs are essential for those who spend a significant amount of time working at their desk. But it's these same bells and whistles that may be overkill for conference rooms.
Instead, consider conference seating that provides the necessary basic adjustments so employees can meet in comfort without complication.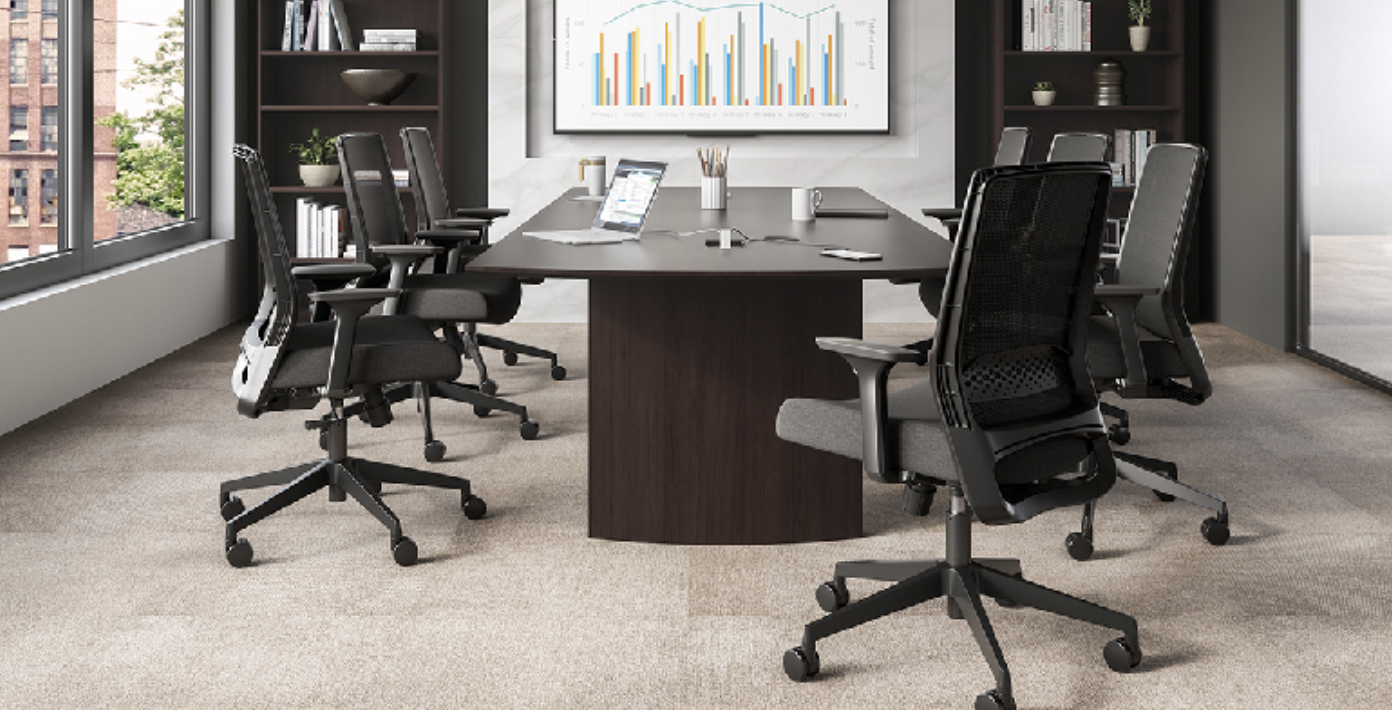 As you think through the types of seating you'll need, consider the amount of time being spent in the supported activities. All task chairs are not created equally. A highly ergonomic chair makes the most sense for those who need to be at their desk working for an extended period since they offer the utmost adjustability. Anyone sitting for six hours or longer per day at a desk will benefit significantly from the ability to customize the height, seat depth, arm placement, and lumbar support. But for those spending shorter intervals, a basic task chair with fewer adjustments can provide exceptional comfort. And for even shorter durations, the use of stools or extended-height seating with standing-height desks are also great options for working independently or collaborating with others.

Another factor to consider is if the seating is meant to stay where it is or needs to be moved out of the way. Using lounge furniture to support meetings can look and feel fantastic but only makes sense as a permanent setting since it's heavy and bulky to move. Consider lightweight training and conference seating with casters for easy mobility in highly collaborative areas where frequent reconfiguration is crucial. If seating is only required for a temporary situation and then needs to be redeployed elsewhere or placed out of the way, consider options such as stacking chairs that can easily nest, be transported, and then stored.
Creating an optimal workspace means making furniture choices that ensure a seamless workflow and enhance productivity. Spending the time in the planning stages to think through purpose, duration, and location will help you find the ideal mix of seating solutions to help your workers succeed.
---
Find Your Chair
Safco offers a comprehensive collection of chairs designed to support all the ways in which you work. With so many options and styles, our seating will keep you comfortable and productive, whether you're sitting, perching, or lounging.