Yes, it's a bit of a dirty subject, but it's time we did a little trash-talking. So, how much thought have you given to the trash and recycling bins in your office or home? You wouldn't be alone if you said, "Not much." We get it. No one ever really thinks about waste receptacles until they need one. But if you're outfitting an office space, there really are some things that you need to consider when it comes to collecting refuse. Because believe it or not, there are specific design features that go into these products that make some better suited for certain purposes and areas. And when it comes to maintaining the health, safety, and cleanliness of your workplace, getting the right receptacle for the job is important.
While it would be easy to get several the same type of plastic bins and call it good, here are some factors to consider.

First things first. Start by identifying the types of waste your business and workers generate. Open wire mesh baskets are great for collecting paper to recycle but not so much for sticky food wrappers and the remnants of someone's lunch. Using receptacles with lids is a great way to keep odors at bay and those annoying flying pests away. If you need a covered waste container that will be used by several people, consider getting a receptacle with a step-on pedal that opens the lid to keep everything healthy, clean, and hands-free.

The placement of the trash receptacle should determine what type of solution it is. Lightweight bins are useful for the indoors but won't work well for outdoor areas where the elements can wreak havoc on the container and its contents. For outdoor areas, consider waste containers that have the weight to withstand wind, are built with UV-inhibitors to resist fading against sun exposure and are made from materials immune to rust from precipitation.
Front Office May Differ from Back-of-the-House or Warehouse Areas
While we don't often think of trash or recycling bins as stylish accessories, looks do count when it's something that will be in high-profile areas and seen by visitors and customers. Sleek styles in various finishes are available that are as pleasing to the eye as they are functional so that they don't detract from the overall look and brand image you are trying to achieve.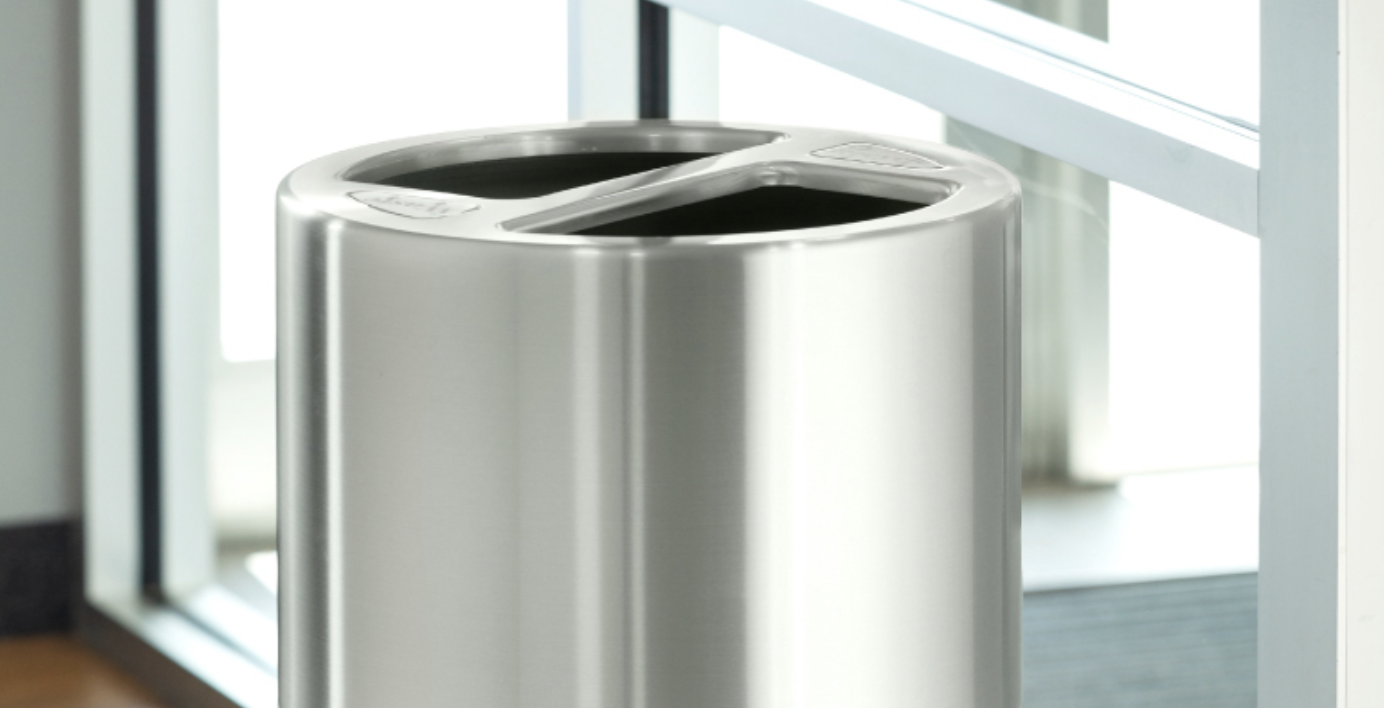 When it comes to trash, size really does matter. Let's face it. Overflowing trash cans are not only unsightly but also unsanitary. When you choose a receptacle, consider the volume of trash your workers generate. Not only do you need to select the correct size for your containers, but you also need to make sure you have enough strategically located where your employees can easily access them. Place your waste or recycling bins too far away, and there's more likelihood of your workers piling their refuse on their desks until there's a more convenient time for them to make the trek to dump their trash. And when space is at a premium, consider using triangular receptacles that can easily fit into corners to save space yet have plenty of capacity to hold trash or recyclables.